As the respected leader of the EVIL CLOWN UNDERWORLD I myself the Clown Father would like to show my deepest respect and admiration and understanding of loss to the planet Earth for the passing of one of the greatest comedic minds of the late twentieth century, Bea Arthur.


 With her extinsive career on broadway, she still managed to spend a little time on the teleivison to make us laugh, and think.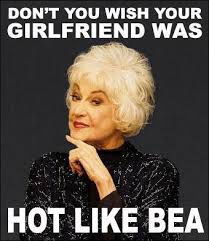 Archie Bunker didn't stand a chance against Maude. And the Golden girls wouldn't have been so golden without their golden anchor.

Now her foot lamps are lite by the stars and the curtains open to a hevenly audience, Bea Arthur, just went ENTERGALACTIC SUPERSTAR. God bless you Doll, you were one classy Dame.

  We will miss you.