Blackpool is a seaside town in Lancashire, England. Lying along the coast of the Irish Sea, it has a population of 142,900, making it the fourth-largest settlement in North West England behind Manchester, Liverpool and Warrington. It lies 40 miles north-west of the city of Manchester.
Blackpool rose to prominence as a major centre of tourism during the 19th century, particularly for the inhabitants of northern mill towns.

It's also got a really bad reputation as a Chav hangout and more recently, drug wars and knife crime. But you know what? It used to be really really nice, and in the 1940's&1950's it was the perfect holiday destination, and the sea was so great you could swim in it. I wouldn't put my fucking little toe in the sea now, as I fear the toxic waste produced over the amount of rubbish that's been chucked in there over the last 20 years, well, my toe, it would just fall off.

It's home of this structure, which looks like something you'd find in Paris.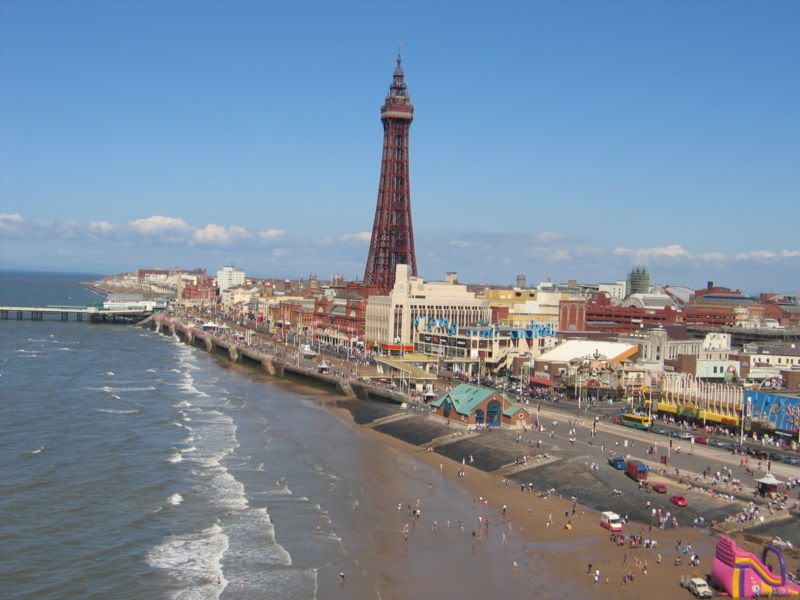 Blackpool Tower folks. Ain't it a beauty?

Oh, and of course one can't forget that it's home to the pleasure beach, the funnest place on earth, and were you'll find the Pepsi Max BIG ONE!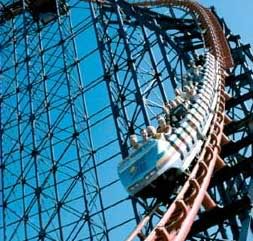 This picture is of the first drop. Steep or what? I've been on that thing twice back in the early 1990's and I'm still waiting for my scream to catch up with me. Of course there are steeper rides now. All, of which my screams are still trying to catch up with me.

Why am I giving you pointless useless Encyclopedia Brittanica information about Blackpool? Well, I just spent 3 days there is why. I didn't however go to Blackpool Tower or ride the Pepsi Max BIG ONE or my favourite wooden rollercoaster The Grand National. I spent my 3 days on an acting teacher training course for a job I am starting in May in my hometown.

However, if you do want to spend a holiday at the lovely seaside resort Blackpool then be my guest, B&B's there start at just £25 a night and I think that even includes breakfast! Of course it'll probably cost you up to $900+ for the flight to Manchester (closest airport) and then a return train ticket which will cost around £51 for an anytime return.

Hopefully, my review should help you make the desicion on whether or not you want to visit.

Do you think Trip Advisor would hire me as a writer?