ex-NEWS-sive! Press release, October 12 2012:
Stankey Craig, a college student at Make Up Your Own Degree and Never Get a Job Institute, a liberal arts college, has had recent trouble with his roommate Ashton, pictured below protesting something while wearing pink socks: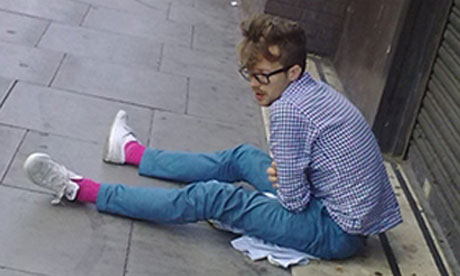 Ashton, a philosophy major, has recently been really annoying according to Stankey, about certain 'world issues' he reads about and is involved in 'spreading awareness' with.
Stankey recounted the following:
"What's wrong dude?" inquired Stankey.
"Nothing man.... just this whole Prop 8/darfur/dolphin endangerment thing is really like, getting to me.  I mean, I seriously feel like it's just malnourishing my body and spirit.  I feel like a weight is constantly on me, crushing me, I can't breath, my spirit is gone, my will is gone... where to?  Who knows... who knows. " said Ashton.
"Dude, it's not that big of a deal.. I mean it's not directly affecting you and noone can solve anything.  You're bumming everyone out" responded Stankey.
"You just DONT GET IT!  THESE ARE REAL ISSUES!  AHHHH!  AHHHH!!!"  He then ranted and raved, collapsing on the floor and foaming at the mouth.
The incident was just one in a series of similar exchanges, mostly involving "some social or environment issue that he hears about", revealed Stankey.
"He just always does this, he's like this crazy 'activist' type guy who just annoys everyone.  He calls us names and insults us if we don't agree with him or join one of his 'campaigns'.  We seriously just want to drink party and rawk 24/7, but we can't with this going on all the time.  I tried to get stoned the other day and make some hash-brownies and rage out, but then he came in with his activist weirdo friends and they made a like cardboard statue thing of Mitt Romney and the Chick Filet guy and were smearing feces and pissing on them,  then burned them outside and were like doing this crazy chant shit, fucking creepy as hell." Stankey said.
As we were there interviewing him, Ashton came in and started talking about another issue, interrupting our interview.
"Chick Fil-A!!!! AhhHHH!!!!  THESE PEOPLE ARE CRAZY LUNATICS Who should haVE BEEN AborTED!!!" screeched Ashton.
"Dude.... can you please go off to one of your 'meetings' or something?  Isn't that Kayla chick available or something?" Stankey asked.
"...Kayla is busy right now.  ...........She hasn't re-phoned me THESE ISSUES MATTER!!!" Ashton responded
"Dude, it's just, like just don't eat there, you can't do anything about it....  Re-phoned me?" Stankey said.
"...But others are eating there.  OTHERS ARE.  Where are the Obama's of the world, the real world-changers?  It was HE that says he supported gay marriage.  It was HE!!!!! I love gays.  Why would anyone hate gays?  They're cool and DIFFERENT!!!" Ashton said.
"I don't hate them, I don't know anyone who does.  What the hell are you talking about?" Stankey asked.
"You are the problem of this world.  I knew you were trouble when you wouldn't join my campaign to OVERTHROW THE CHICK FIL A AT THe MALL!" Ashton revealed.
"Overthrow it?  What are you a Lord of the rings character?" Stankey asked.
"Stop your malarky and MAKE A REAL CHANGE FOR OncE!!! AM I The only PERSON WHO CARES ABOUT ANYTHING??" He screamed while spitting all over Stankey.
"Dude, just SHUT UP!  Get out of here with your shit!" Stankey yelled back, pushing Ashton away.
"Ahh! AHHH!  ouuuuchhh!  OWWWWWWW!  EVIL!  YOU VIOLENT HATER!  HOW DARE YOU LAY YOUR HANDS ON ME I WONT STAND FOR THIS OPPRESSION AND HATE!!!" Ashton dramatically responded. 
"YOU WERE IN MY FACE, ASHTON." Stankey said.
"OF course I WAS.  Any EXCUSE you REPUBLICANS CAN MAKE."  Ashton said, with tears in his eyes.
"i DONT EVEN FOLLOW politics and so what if I was republican you were in my face, get out." Stankey said, coming right up to Ashton's face.
"Uhhh... err.. heh... ok,... just uh calm down man it's ok heh seriously....that was just a joke man... you now how I'm the jokester."  Ashton timidly responded.
Apparently the roommates were put together by the Universities "learn from someone you completely clash with" roommate pairing program.   As Ashton left, Stankey let us in on more crucial information:
"Yeah, he's always on and on about that 'others' shit.  He sounds totally crazy with that.  He calls everyone republicans and evil and tea party members too.  Honestly he's just like the most annoying person I've ever met."  Stankey admitted.
"I can HEAR EVERYTHING YOU'RE SAYING!!! If you have a problem with me, TALK TO ME!!" Ashton yelled from the other room.
"I don't need to start it up with you again, I'm talking to them because they are asking me about the situation dude" Stankey responded.
"It's just a LITTLE annoying hearing you talk IN THE OTHER ROOM ABOUT ME like I'm NOT HERE but I AM HERE AND ready to TALK WHENEVER" Ashton screeched.
"Dude, you are such a little girl. How are you straight?  I talk about you because you are annoying, it's impossible." Stankey said.
"What?  What are you trying to say about THE GAYS that they're all like little girls?  They can handle themselves just like any straight person and can stick up for themselves.  Some of them ARE VERY TOUGH AND STRONG!" Ashton retorted.
"I'm talking about you.  Unless you ARE gay.  Nothing wrong with it if you are, dude, just come out." Stankey offered.
"I am not I AM NOT I AM NOT I AM NOT A GAY!  I am not in any closet!  I'm right here." Ashton yiped.
"See, he's so sensitive and defensive about it it makes me think he is."  Stankey revealed to us.
"If he is so accepting of people I don't get why he's so afraid to be called it." Our reporter agreed.
We offered our condolences to Stankey and tried to leave, although on our way out we were bombarded by Ashton:
"Hey are you guys registered to vote....... democrat?  Where are you guys registered?" Ashton asked.
"Oh... yeah we are.. we're good.." We said.
"You guys this election is SO SO SO important you really have to vote and make your voice heard Obama ... I mean.... whoever's GOING to be president needs the support and this is a pivotal PIVOTAL MOMENT in history it's just"
"Ok ok yeah we're registered, just please let us leave" we managed, while he blocked our exit.
"PLEASE GUYS THIS ISNT something TO FUCK around WITH THIS IS THE ELECTION where it ALL CHANGES.  EVERYTHING WILL BE AFFECTED THIS IS SO IMPORTANT GUYS PLEASE JUST VOTE OBAMA VOTE FOR OUR LEADER THE ONE TRUE LEADER AHH OWW!" We pushed past Ashton.
"YOU GUYS WILL HEAR ABOUT THIS ASSAULT!!" Ashton yelled as we left, calling the campus police assault victims hotline.  We breathed a sigh of relief as we left, feeling very sorry for Stankey, we can only hope he gets a different roommate or living situati..  
-----------------------------------------------------------------
UPDATE: It's been three days that we've been locked up in the universities "Supressors Prison"... which they've called us since we apparently 'supress individual rights' and are a 'threat to free expression and love and acceptance and change in the world'.  We've contacted our lawyers, and we're hoping to get out of here at some point, any future updates will be posted... please contact our families and let them know...