For those who do not know me it may come as a surprise that I have a morbid  addiction to nasty , gross things most girls squirm from. Like zits.. Taking the subway every morning a daydream about running up and down the car and popping the hell out of random's whiteheads... 

So anyway, today I was googling supplements and clenses and I came across something so fucking spectacular that it took every ounce of will power I have to finally minimize the screen....


www.drnatura.com
This is the holy grail of funky shit- no punn intended...


aparently Dr Natura ( not sure if he is MD or PHD) is an avid purveyer of clensing treatments - and is the sole distributer of Colinix...
So what... right...
Well the site is filled up with testimonials of people describing the monsters that crawled out of their butts ... but wait - there is more..
these people posted picture galleries of them probing through their own shit!!!! and oooo what a shit it was....  Like strings of Chrismas lights dipped in coco... see below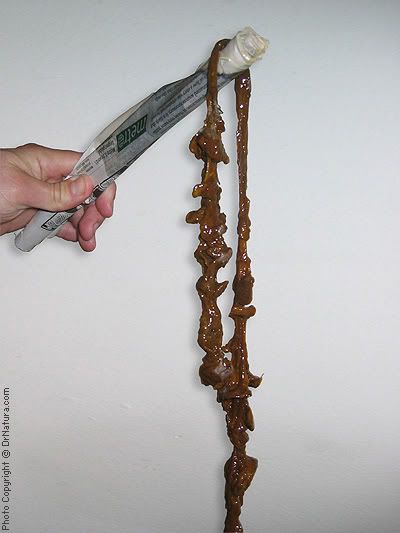 The super fucked up part of this- most people would see this and run.. Not Christina ...I have now ordered the cleansing system. I cannot wait to take pictures with my B.M's ..  
This is a very good day